The animals are calling.
Who do you hear?
Most of us have a special animal we're drawn to. A fantasy encounter from childhood tucked away on a shelf of dreams. A strange fascination with a particular beast. A feeling that this animal holds unique wisdom for us to discover.
Others of us still feel actual resistance to animal encounters. Hidden fears and past traumas make us wary of connection, yet we sense that now is the time to face this head on.
Some of us feel deeply connected to the entire animal kingdom. From spiders to lions, we feel each animal's beauty and connect with their presence whenever the opportunity arises. We're drawn to these creatures, and we sense that greater experiences await us.
Whatever your reasons, you're here because part of you senses that it's time to take the next step and connect, in person, with the wild world of animals.
So which animal are you drawn to? Which do you fear? Allow your intuition to guide you, knowing that all offer healing transformation.
---
Dolphins
Dolphins are known for having playful personalities and a natural curiosity toward humans. Encountering dolphins in the wild is truly a magical, joyful experience.
Our dolphin encounters take place primarily in the Bahamas, as we spend a week exploring turquoise waters on a 41-foot catamaran.
Learn more about customizing your own dolphin experience.
Join one of our group trips in 2015.
Elephants
Elephants are great, majestic beasts with impressive creativity, huge intelligence, and advanced social dynamics. Few remain unhumbled after an encounter with elephants.
Our elephant experiences take place in Kenya, where we can engage with them directly at a rescue center and potentially encounter them in the wild while on safari.
Learn more about our elephant encounters.
Horses
Horses sense the emotions that lie just under the surface, the ones we'd prefer to keep hidden. This unique ability creates opportunities for deep healing to occur in the presence of these soulful, gentle creatures.
Our horse encounters take place in the form of weekend retreats and local trips here in Colorado, as well custom trips in Oregon.
Learn more about our Colorado trips.
Learn about our custom encounters here.

Lions
Ah, the kings of the jungle. Much mythology exists around the great lion, stirring both fear and awe within us. What would emerge for you in an encounter this great, wild cat?
Locally, we offer encounters with lions at an excellent wildlife sanctuary. We also offer lion experiences in their homeland of South Africa, where we both visit a rescue center and go on safari.
Learn more about our local encounters with lions.
Encounter lions in their homeland of Africa.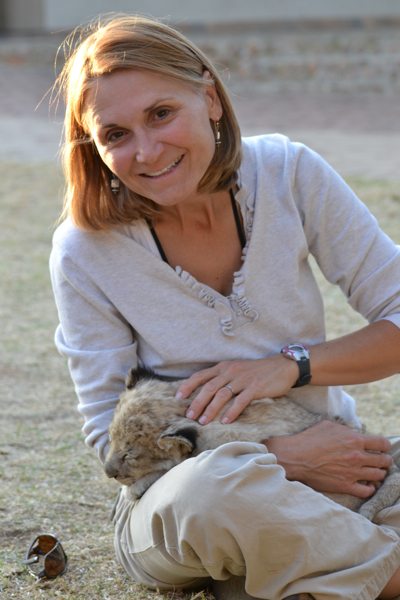 Wolves
So many legends surround the great wolf. What stories have you been told? Whether you fear the big bad wolf or embrace your own wild nature and howl at the moon, an encounter with wolves is a powerful experience
For our wolf encounters, We travel to Divide, Colorado to visit a wolf sanctuary.
Learn more about our wolf trips here.
What's your dream encounter?
If you don't see your animal of choice listed here, we can help. We might already have a trip in the works that isn't listed yet (whales, perhaps?) and if we don't, we'll do everything possible to make your dream a reality.
Learn more about creating a custom trip to meet your dream animal here.