Ready for adventure?
Joining one of our international group adventures is a wonderful way to connect with both animals and other travelers. You get to sit back, relax, and enjoy your animal experience while we take care of the details.
Throughout your adventure, you'll receive coaching to help you open your heart and tap into your personal power. You'll learn to open your senses to the animals you meet, interpret their reactions to you, and process all of the lessons that arise.
Learn more about our unique approach to animal experiences here.
You'll walk away from your group adventure with a renewed sense of personal transformation, inner strength and compassion, and memories to last a lifetime.
Contact us for more information.
Swim with the Dolphins
An encounter with wild dolphins is like a wash of unconditional love, ecstatic play, and pure joy.
On this group adventure, we travel to Bimini in the Bahamas. Joined by the excellent team at WildQuest, we'll spend a week exploring turquoise waters, tropical islands, and coral reefs on a 41-foot catamaran.
During the week, we'll sail out to sea daily in search of wild dolphins. Facilitation and support in processing of our dolphin encounters will be provided, and you'll enjoy biking, yoga, kayaking, and sightseeing in your free time.
This truly is the adventure of a lifetime.
Contact us for more information or to sign up for our next dolphin adventure!
Dates and Cost
Swim with Dolphins – August 2015 Information
Swim with Dolphins – October 2015 Information
South African Wildlife Expedition
To meet a lion is to connect with wild power, untamed play, and fierce love.
Our journey to South Africa brings us in contact with a wide variety of wildlife as we enjoy luxury accommodations, dine on exceptional cuisine, and enjoy waking each day to African wilderness.
Highlights include connecting with lions, visiting a cheetah rescue center, and going on safari in Kruger National Park.
We begin our journey at the Ukutula Place of Quiet, where we'll spend 5 days with rescued lions. We'll feed the cubs, play with toddlers, and walk alongside adults.
Next, we travel to the Anne Van Dyke Cheetah Center, where we engage with both cheetahs and many other rescued animals, including honey badgers, vultures, hyenas, ostriches, wild dogs, and many endangered species.
Finally, we journey to South Africa's Kruger National Park, where we spend another five days in search of wild animal sightings. Lions, elephants, giraffes, zebras, water buffalo, antelope, hippos, rhinos, and monkeys are all possibilities!
This is a transformational experience for all involved.
Contact us for more information or to sign up for our next South African adventure!
Dates and Cost TBA.
East African Adventure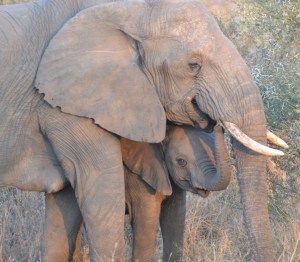 We emerge from an encounter with the wild animals of East Africa transformed, grateful, and deeply connected to our powerful compassion.
We begin our East African journey in Kenya, where we spend several days exploring the wilderness, wildlife, and culture of this amazing region. From there, we continue to Tanzania for an unforgettable safari in the Serengeti.
Our East African Adventure includes visits to:
Nairobi National Park. Spend a day in the Nairobi National Park as we search for black rhinos, lions, leopards, cheetahs, hyenas, buffaloes, giraffes, zebras, wildebeest, elands, hippos, and incredibly diverse birdlife!
The David Sheldrick Elephant and Rhino Sanctuary. Engage in healing, transformative play with orphaned elephants.
The Giraffe Sanctuary. Learn about efforts to protect Kenyan wilderness as you enjoy connecting with the awkward grace of giraffes.
Masai Marketplace. Wooden sculptures, beaded necklaces, batiks, stone carvings, textiles, and more can be found at this vibrant marketplace.
Serengeti Safari. Here, we have an entire week to enjoy our safari. Home to two million wildebeest, the largest grazing herds on the planet, and the highest concentrations of predators in Africa, the Serengeti guarantees an exceptional safari.
Optional: Side Trip to the Great Rift Valley. The Great Rift Valley is known worldwide for its great freshwater lake and the unique wildlife that congregates there. Depending on the interests of our group, we'll schedule a side trip to this natural wonder.
Wild, playful, and transformative adventure awaits you in Kenya and Tanzania.
Contact us for more information or to sign up for our next East African Adventure!
Dates and Cost TBA.
Ready to go? Want more information?
Contact us! We're happy to help.
Want to turn any of our group adventures into a customized trip? You can! Learn more.