Subscribe to this Sabbatical Blog
How to Subscribe
Now that you have visited the Church of the Hills blog, we encourage you to subscribe to the blog in order to receive the informational updates as they are posted. This way you won't miss any of the valuable information regarding Dee's sabbatical preparations. We anticipate 2-4 updates per month.
You may subscribe to the Sabbatical Blog in either of two ways:
Email, which will deliver updates directly to your preferred email address
Feed Reader, which will deliver the blog feed directly to your already established reader (note: if you don't know what a reader is, we recommend you subscribe via email)
To subscribe either via email or reader, simply look for the "SUBSCRIBE" title on the right-side navigation bar. Once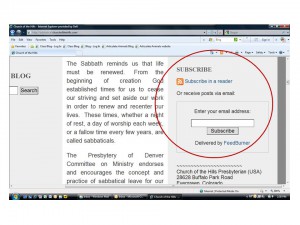 subscribed, you will begin receiving posts as they are published.
**Important: When subscribing for email updates, you will receive an email confirming your subscription and you MUST click on the link included in the email to finalize your subscription.
Macintosh users may prefer to subscribe to RSS feeds using the Macintosh Mail program:
Choose File > Add RSS Feeds, or click the Add (+) button at the bottom of the sidebar, then choose Add RSS Feeds
Browse and select a feed you've bookmarked in Safari, or enter or paste the URL of a new feed. To search feeds you've bookmarked in Safari, start typing in the search field
To include RSS feeds in your Inbox, click "Show in Inbox"
Click Add
Alternatively, you can drag the orange 'RSS' button from the RSS page in the web site and drop it in the RSS section of your mailboxes
We look forward to communicating all relevant preparations for Dee's sabbatical through the blog in the months to come. And we look forward to Dee being able to communicate her sabbatical adventures with the congregation through this same blog while she is away!