Overview of Summer Series
As presented during "Seconds for Sabbatical," May 8, 2011
An overview of the Summer Series, currently being developed by the Sabbatical Team, was presented by Jill Hesser, highlighting Pastor Dee's summer itinerary and how the the local schedule of activities relates.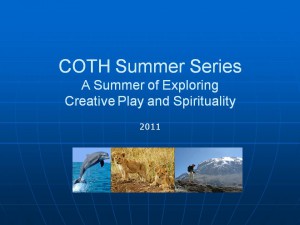 Elements from Dee's itinerary – from California to Bimini to Oregon and finishing in Tanzania – will be highlighted through the summer with a variety of local activities tied in some way to her journey.
Books have been selected for the May Adult Education classes as well as monthly evening book groups. May's book kicks us off with a short, user-friendly manual on sabbath and sabbatical. The remaining books relate to Dee's schedule for each month. Participants in the book groups may attend all four meetings, or just one or two.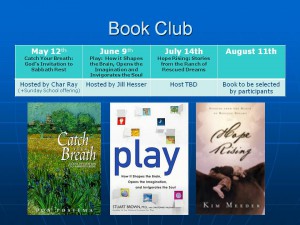 Monthly movies are also being selected for each month as they loosely relate to Dee's travels.
Two field trips are currently planned. May will take us to the Colorado Wolf and Wildlife Center in Divide where we will have opportunity to engage in playful interaction with wolves, fox, and coyotes. Hikes are being planned in Evergreen on August 20th, the day Dee will summit Mt. Kilimanjaro. Bergen Peak, as well as other hikes for all abilities and possibly a dog-friendly route, will be announced later in the summer.
We will welcome Dee home from her summer sabbatical adventures on Sunday, September 11th. Fall activities are in the planning phase as Dee's learning, as well as our own, is integrated into the life of the congregation.
The Sabbatical Team invites you to join us in any and all of the scheduled activities during our "Summer of Exploring Creative Play and Spirituality!"  Each of these activities will be listed on the right side-bar of this blog in the "sabbatical calendar" with additional information as needed.